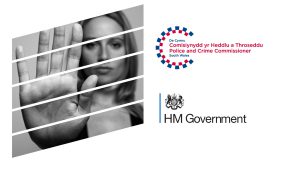 UK Government this week announced that the South Wales Police & Crime Commissioner will receive £1.4million, to help prevent and address violence against women and girls.
The award, which was the largest share of the £17million fund, was made following a successful bid to the Violence Against Women and Girls Service Transformation Fund led by Paula Hardy, the Commissioners Strategic Policy Lead.
The fund is designed to promote projects which are leading the way in stopping violence before it happens, preventing abusive behaviour from becoming entrenched, and establishing the best ways to help victims and their families.
Alun Michael , Police and Crime Commissioner for South Wales said:
"The award of £1.4million to accelerate our work in reducing violence against women and girls is a significant vote of confidence in South Wales Police. I am delighted that the Home Office has recognised the outstanding work that is being done with our partner agencies, including local authorities, our local health boards, Public Health Wales the Fire Service and third sector organisations, to tackle violence against women and girls.
"Our work together is aimed at improving the safety of victims and their families and it also includes ways of challenging perpetrators and holding them to account for their actions.  We will use this money to follow through practically on our determination to deliver early intervention and prompt positive action whenever problems arise.  I stress that co-operation across the public and voluntary sectors is the only way to bring about the major shift is behaviour that we all want to see and that is a priority both for me and the chief constable and for ministers in Welsh Government.  
"We have already seen success in parts of our area through working with GPs and the DRIVE initiative is a perpetrator management pilot designed to improve victim safety.  This grant will enable us to work together to accelerate this work and improve the safety of women and girls across South Wales.  To do that we have to encourage prevention, identify victims sooner and intervene practically through a victim centred approach. This money will help us to promote action to bring an end to violence against women and girls."
Eleri Butler, Welsh Women's Aid CEO said:
"It is fantastic news that the Home Office has announced funding to deliver the Change that Lasts model in South Wales. Welsh Women's Aid are pleased to be working in collaboration with South Wales Police and Crime Commissioner and other partners to develop this multi-agency response to all forms of violence against women and girls in Wales.
"We know that one in three women in Wales experience physical or sexual violence at some point in their adult lives, it is imperative that we build communities where everyone has the opportunity to make a difference. Women have told us they want more opportunities for to ask for help from someone who understands in their local communities and access to specialist support that enables them to achieve long lasting freedom and independence from violence and abuse. The transformative Change that Lasts approach, funded by the Home Office, will develop resilient communities, by maximising communities' understanding and responses through training local community members – like hairdressers, shopkeepers or community volunteers – to have a supportive conversation and to provide a helpful response to any disclosures, we will aim to ensure that anyone experiencing violence and abuse can get the help they need, at the earliest opportunity.
"The model will also develop and maximise the role of trusted professionals, trained to identify and respond to survivors and perpetrators, increasing opportunities to engage with local specialist support services and perpetrator programmes. The Change that Lasts model will change systems and transform lives. Ultimately we aim to reduce the number of women and children living with abuse and ensuring that the action taken across communities has a long term beneficial impact for victims, survivors, families and the wider community."
Jo Todd, Respect CEO added:
"Respect are delighted to be working in partnership with Welsh Women's Aid and Women's Aid England to develop a perpetrator response aligned with Change that Lasts.  We look forward to working together closely in South Wales to ensure that perpetrators are identified at the earliest possible point, are held accountable, given opportunities to change and are dealt with robustly if they choose to continue being abusive or violent."
Anyone affected by domestic abuse, sexual violence or any other form of violence against women in Wales can contact the Live Fear Free Helpline on 0808 80 10 800 for 24-hour confidential information and support, and help to access local services. The helpline now also operates a web chat provision between 9am – 9pm every day and more information can be found here: http://livefearfree.gov.wales/how-to-get-help 
The full Government announcement can be viewed here:
https://www.gov.uk/government/news/uk-government-awards-14million-to-south-wales-police-crime-commissioner-to-tackle-violence-against-women-and-girls